College Hypnotist Erick Känd serves student activities coordinators across the nation. Providing interactive and memorable campus entertainment programs guaranteed to keep everyone laughing!
Watch It Now: College Entertainment Promo Video
College Hypnotist Erick Känd
Interactive, Mysterious, Unpredictable, and OUTRAGEOUS!
This program will engage your students at levels you never thought possible. This show is much more than a college comedian with a pre-packaged act.
The College Comedy Hypnosis Show is a thrilling performance. Combining student involvement, improv comedy, and the mysterious subject of Hypnosis.
The Erick Känd College Hypnotist Show is the right entertainment choice for:
Campus Activities Board Events
Campus Festivals
Comedy Nights
Diversity Programs
Family Weekend
Freshman Orientation Programs
Greek Week Unity Days
Homecoming Events
Housing & Residential Life Events
Move-In Day Icebreakers
Student Leadership Conferences
Welcome Week Programs
Students experience genuine hypnosis phenomena, and role-play in unpredictable comedy routines. Audiences double over with laughter!
This will be one of the great highlights of your school year. Expect to get rave reviews from your students.
Why THIS College Hypnotist Show?
The "Wow!" Factor of a Big Production
The Erick Känd College Hypnotist show is designed with your students in mind. It's a fast paced, high energy show. Music and sound effects are seamlessly integrated into the production.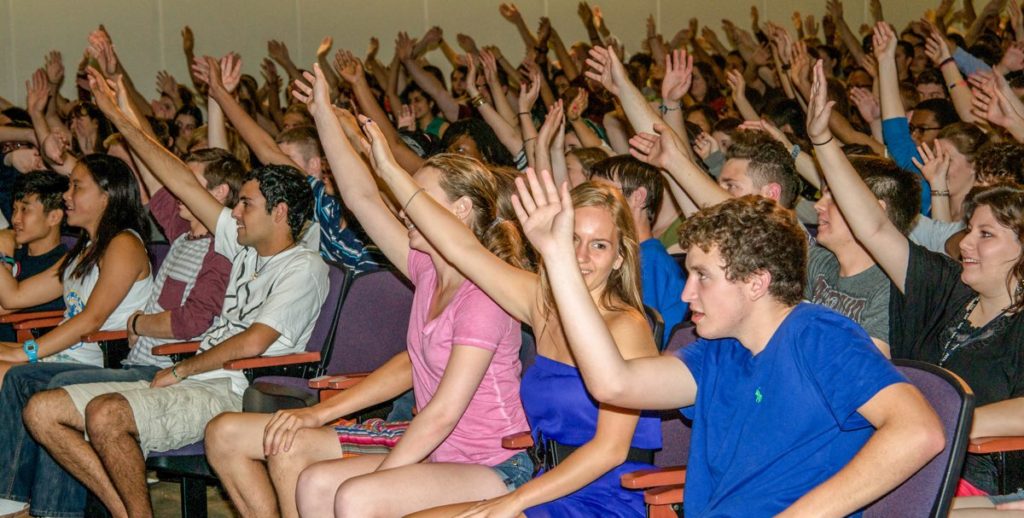 College Students LOVE to be Hypnotized!
The majority of your audience (80% or more!) will be eager to volunteer and become a part of the performance! College students love the mystery and thrill of the hypnotic experience. Expect an enthusiastic turnout at your event!
Volunteers are Treated with Respect
Some college comedians resort to offensive material to get cheap laughs. The Erick Känd Hypnosis Show is completely engaging without ever "crossing the line".
Every Hypnotist Show is Different
Every Hypnosis Show is different. Each performance employs a new set of volunteer "performers". Your students are the TRUE stars of the show!
Each student brings their own unique personality and perspective to the hypnotic scenarios. The results are surprising and unpredictable.
The College Hypnotist Show is an annual event on many campuses. Erick Känd changes much of the content from year to year. Everything is fresh for students who come back to see the show again and again.
The result is that the audiences keep getting larger every year. Event coordinators can rely on an entertainment program that NEVER gets "stale".
Flexible and Fun to Work With!
You can expect prompt and professional customer service every step of the way. The staging requirements are minimal and flexible. Erick Känd performs wherever you need him. Your venue can be the school cafeteria, gymnasium, or the drama auditorium.
Minimum Tech Requirements
Hypnotist Erick Känd cues his own music and sound effects via remote control. A technician is not required once the initial sound check is complete.
Easy to Promote
We've got promo materials in the form of press releases and high resolution photos. Stage Hypnotist Erick Känd is happy to do print, radio, and TV interviews to promote your performance!
It's great to play to a packed house. Please let us know what we can do to ensure your event is a smooth sailing success!
Budget Friendly
Block Booking: You'll receive a significant discount if you persuade nearby college to host a show within a day of your performance.
What if we have a small campus that lacks funding for these types of events? The Hypnosis Show is within the budget for most colleges. Contact us to get a proposal for your event. Also, consider doing a joint venture with another group on campus.
The Best College Hypnotist Show
The Erick Känd College Hypnotist Show means quality entertainment and audience involvement. Big laughs unite college audiences! This is a unique campus entertainment that students rave about.
Sharing a laugh motivates your students and stimulates morale. The positive experience of this Comedy Hypnosis Show puts a smile on the face of your campus.
Book the College Hypnotist with an outstanding track record. Smooth, professional, and engaging. Erick Känd has delivered at hundreds of college events like the one you are planning right now!
College Hypnotist Rave Reviews!
…people were fascinated by the show, and really enjoyed getting a good laugh.
Kendall Ringo, VP Programming
Clemson Order of Omega, SC
…a really good time…your performance was a perfect start to welcoming performers back to our campus.
Ashlyn Smith, Program Board Senior Event Planner
Saginaw Valley State University, MI
...students loved having you on campus and had some lovely stories to share!
Tori Williams, Asst Director of Campus Activities
Gannon University, PA
...very funny, while also being super engaging and a crowd pleaser! I personally loved the entire show…
Maggie Dalker, Executive Event Coordinator
University of South Carolina
...performance went great, the students had lots of fun!!!
Alexis Schafsnitz, Admin Assistant, Conference/Events
Haverford College, PA
…they had a great time…really amazed by it!
Megan Flores, Student Life Graduate Assistant
Webber International University, FL
…loved it for sure…amazed by how quickly you hypnotized the students…turnout was great…
Citlalli Cobian, UAB Chair of Entertainment
Fort Hays State University, KS
…very entertaining…everything ran smoothly…a great event!
Jenna Keppel, SAB Night Life Coordinator
St John Fisher College, NY
…a lot of fun…still chatting about it the next day in the student center.
Adam Robertson, Director of Student Engagement
Columbia State Community College, TN
…absolutely wowed the audience…have not laughed as hard as they did in a long time…
Kaya Bothe, CAB Live Chair
Brandeis University, MA
…loved the show and continue to talk about it.
Autumn McGrath, Orientation Leader
Bloomsburg University, PA
…loved it! It went over so well…
Jordyn Lepird, CAB Variety Director
University of Iowa
…exceeded our expectations…great in all aspects.
Sarah Maples, Asst Director of Athlete Development
University of Houston, TX
…an amazing show. Our students loved it.
Demeturie Gogue, Activities
Georgetown University, D.C.
…incredible performance…so much fun…
Ali Neuburger, Alpha Epsilon Phi
New York University
…highlight of the night…of all the hypnotists I've booked, you were the first that had people come up to talk and thank you for the show.
Canaan Daniels, Student Life
Eastern Illinois University
…outstanding…One of the better hypnosis shows…Easy to work with, and the students had a blast.
Dave Timmann, Student Union
West Chester University, PA
…you not only care about everyone having a good time, but you also care about the safety …
Wendy St. Pierre, Activities Board
Bridgewater State College, MA
…captivated…already requested he comes back.
Sam Peterson, VP of Events
Saint Louis University
…huge hit…we haven't stopped talking or laughing about it.
Lisa Potoka, Director of Student Activities
Coker College, SC
…still raving about your wonderful performance…
Kipp Colvin, Director of Student Activities
Glenville State College, WV
Fun! Exciting! Hilarious!
Nellie Hermanson, Associate Director of Activities
University of Iowa
… entertained from beginning to end…
James Schnepel, Campus Activites
SE Missouri State University
…great feedback from all in attendance…Erick is incredible to work with.
Liam O'Farrell, Resident Director
St Mary's University of Texas
…seen many hypnosis shows, and yours was by far the best!
Pam Wooten, Student Activities
NW Mississippi Community College
Erick is definitely one of the better entertainers I have worked with in my time.
Charles Delp, Asst Director, Student Activities Board
University of Kentucky
..had a great time and the show was so much fun!
Amanda Wong, Program Board
Macalester College, MN
…great to work with…loved your show! It was a really fun evening.
Allison Allbritten, Office of Student Engagement
Southern Illinois University Carbondale
…only heard amazing things from our students. Your performance was so entertaining, and the energy was amazing.
Dylan Rehman, "Spooky Brook" Event Coordinator
Stony Brook University, NY
…all positive! We love to hear students leaving a program laughing and chatting about what they saw…
MaryClare Rae, New Student Programs
West Chester University, PA
I have had comedians, magicians, and mentalists come here, but Erick was the best at entertaining the whole crowd the whole time.
Kevin Larson, Resident Educator & Student Advisor
Tabor College, KS
…great feedback…still talking about it…nailed it in all aspects.
Gracie Jordan, Director of Special Initiatives
College of Coastal Georgia
…great show! We would definitely love to have you back in the future.
Megan Searing, Leadership Coordinator
Nazareth College, NY
…great energy and you "wowed" them for sure. I myself LOVED your performance.
Shannon Columb, Event Producer
University of Wisconsin-Stevens Point
…students were very engaged, and laughing…
Kathleen Tucker, Director of Summer Programs
Georgetown University, DC
…students rolling on the floor…others in tears from laughing so hard.
Lindsay Phipps, Student Activities
Lander University, NC
…really, really enjoyed your performance.
Mike Elias, Student Activities
Swarthmore College, PA
…an incredible event full of laughter…
Gabrielle Palombaro, Events
Ohio State University
…talking about how fun and awesome it was.
Jordan Glaser, Coordinator, Student Involvement
St Louis University, MO
…incredible turnout of over 500…students asking for your return.
Jennifer Zipprian, Involvement
Texas A&M International University
…standing room only…impressive sight to see.
Kyle Brock, Residence Life
Southern Polytechnic, GA
It was awesome!!!
Lova Patterson, Director of Campus Activities
Eckerd College, FL
…definite success! …students still talking…
Andrew Vogelsang, Late Nights Chair
Salisbury University, MD
…still talking about the performance…asked that we bring you back.
Lora Pace, First Year Programs
Morehead State University, KY
…Awesome show…students had a great time.
Shawn Stewart, Student Life
Tusculum College, TN
…major hit with a packed house of over 900…
Ferreli McGilvary, Transitional Programs
NC A&T State University
…non-stop laughs from the audience…so hard I almost started to cry.
Emily Becker, Director of Entertainment
University of Iowa
…still talking and asking when you will be back!
April Leach, Associate Dean of Students
Andrew College, GA
…dynamic performer…definitely recommend having him perform on your campus!
Cassie Gilmore, Director of Student Activities
Baker University, KS
…excellent time…will definitely recommend you return next year.
Josh Bremer, Greek Week Chair
University of Missouri-Rolla
…rolling out of their seats…one of the best events we have had.
Ankita Rakhe, Student Programs
Trinity University, TX
---
College Hypnotist Clients
Albany State University, GA
Andrew College, GA
Auburn University-Montgomery, AL
Austin Peay State University, TN
Baker University, KS
Bloomsburg University, PA
Brandeis University, MA
Bridgewater State College, MA
Canisius College, NY
Clemson Order of Omega, SC
College of Coastal Georgia
Columbia College, SC
Columbia State Community College
Delta Gamma National
Eastern Illinois University
Eastern Michigan University
Eckerd College, FL
Emory University, GA
Florida State University
Fort Hays University, KS
Fulton-Montgomery CC, NY
Gannon Univerisity, PA
Georgia Institute of Technology
Gettysburg College, PA
Glenville State College, WV
Hastings College, NE
Haverford College, PA
Hillsborough Community College, FL
Indiana Tech, IN
James Madison University, VA
Johnson & Wales University, FL
Kennesaw State University, GA
LaGrange College, GA
Lander University, SC
Lafayette College, PA
Lincoln University of Missouri
Macalester College, MN
Maryville University, MO
Midwestern State University, TX
Millsaps College, MS
Moravian College, PA
Morehead State University, KY
NACA Central Showcase, TX
Nazareth College, NY
New York University
NC A&T University
NHTI Community College, NH
NW Mississippi Community
Ohio Dominican University
Ohio State University
Oglethorpe University, GA
Palmer College, FL
Penn State-York-PA
Phi Delta Theta National
Queens University, NC
Quinnipiac University, CT
Radford University, VA
Roosevelt University, IL
Sacred Heart University, CT
Saginaw Valley State University, MI
Saint John Fisher College, NY
Saint Louis University, MO
Saint Mary's College, MD
Saint Mary's University, TX
Salisbury University, MD
Shenandoah University, VA
Sherman College, SC
South Dakota State University
SE Missouri State University
Sheridan College, WY
Southern Illinois University
Southern New Hampshire University
Southern Polytechnic, GA
SUNY-Cortland
Stephen Austin University, TX
Stony Brook University, NY
Suffolk University, MA
Swarthmore College, PA
Tabor College, KW
Texas A&M International
Trinity University, TX
Troy University, AL
Tusculum College, TN
University of Houston, TX
University of AL, Huntsville
University of Bridgeport, CT
University of CA, San Diego
University of Chicago, IL
University of Delaware
University of Indianapolis, IN
University of Iowa
University of Kentucky
University of Missouri
University of Pittsburgh, PA
University of San Francisco, CA
University of South Carolina
University of South Dakota
University of Tampa, FL
University of WI-Stevens Point
Valdosta State University, GA
Valley City State University, ND
Valparaiso University, IN
Vanderbilt University, TN
Villanova University, PA
Wake Forest University, NC
Wayne State University, MI
Webber International University, FL
West Chester University, PA
Whitworth University, WA
Winthrop University, SC
…and many more!
---